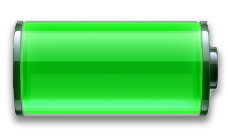 Battery life was an important deciding factor when the 1:1 laptop hardware was chosen. Generally, your 1:1 laptop should get between 6-8 hours of battery life from a full charge. Here are some tips to get the most out of your 1:1 laptop's battery:
Consider turning your screen brightness down. If you do not need to have your screen brightness on the the highest setting, turning it down to about half brightness can dramatically increase your battery time remaining. By default, your 1:1 laptop will automatically dim its screen brightness after a few minutes of inactivity to save power.
To adjust the screen brightness on your 1:1 laptop, simultaneously press the "Fn" and left or right arrow keys until you reach the desired brightness level.
Also disabling or turning off features such as Bluetooth connectivity may slightly extend your battery life.
You can also set power management options to influence how your laptop conserves its battery power. This includes allowing the computer to put itself into sleep mode after a period of inactivity from the mouse or keyboard input.
To change the power conservation settings of your 1:1 laptop and possibly extend its battery time remaining, you first must open the "System Settings" panel. Click on the "System Settings" icon in your launcher.

After the "System Settings" window appears, you must find the "Power" options icon, located in the middle left side of the window, and click it to bring up the power management settings of your laptop.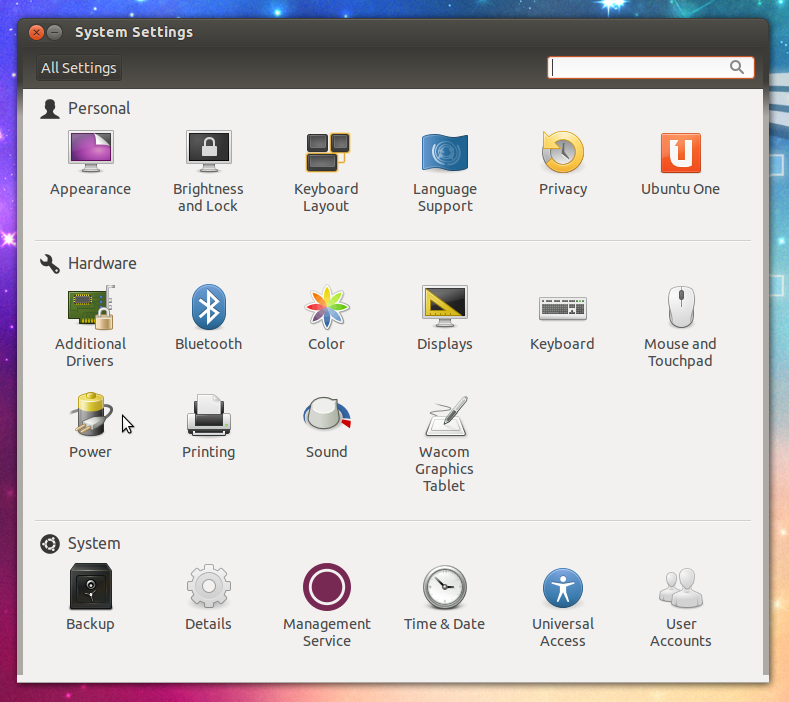 When the preference panel loads, you will see an overview of your laptop's current power management settings. This window allows you to modify your computer's power management actions that it will take when certain criteria are met. For example, you can set the time that your computer will wait before putting itself into sleep mode while it is on battery power to five minutes – by default this option is disabled.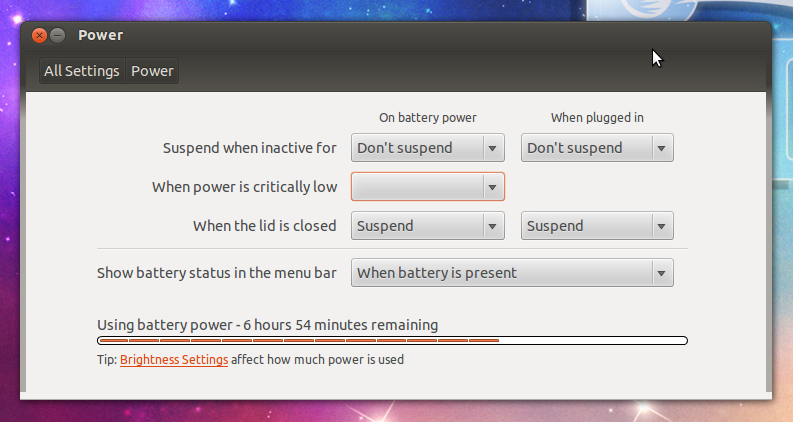 Remember that the time that your laptop's battery lasts is directly influenced by its use and care. For example, your laptop will consume more battery power while watching a streamed video, then compared to when using a word processing program.
Battery life is also affected by how often and how you charge your computer. Most rechargeable batteries tend to last longer over a period of time if you do not completely drain them (although draining the battery completely once every few months can help to recalibrate it); try to maintain the charge on your 1:1 laptop, so not only will its battery last longer, it will be charged and ready when you need it. Also, do not leave your laptop plugged in constantly – this could potentially overcharge the battery and drastically impact its health and longevity.
Please keep these tips in mind while using your 1:1 laptop, they will help keep your laptop's battery in a healthy state and should help to make the battery last longer over an extended period of time.
If you have any other questions about setting the power management settings on your 1:1 laptop or how to properly maintain its battery, please contact 1:1 support.