One of the main advantages to using Libre Office is that it does not require an internet connection. This means that you will not be interrupted like you may be in google docs if you lose connection. You will also be able to work on your documents wherever you go. I will go over some of the basic functions in Libre Office to get you started.

Font and Font Size   Bold, Italics, and Underline   Left, Center, Right, and Justified Alignments
Above is the default toolbar setup for Libre Office. The most commonly used tools, such as font, can be found on the second row.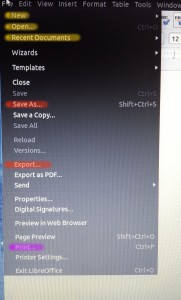 New, Open, Recent Documents: When Libre Office is opened, it will automatically start a new document. To open a previous document, go to File > Open. If you have worked on your document recently, it may show up in the "Recent Documents" tab. If you wish to start another new document, go to File > New.
Save as, Export: When you are finished working you must save your document before exiting Libre Office. This can be done by going to File > Save as. You will then select where you would like to save your document. If your project is finished, you may want to export it. This will allow you to share your document with others.
Print: You may print your document by going to File > Print
Below are some keyboard shortcuts that may be helpful
Ctrl + a: Select all
Ctrl + c: Copy
Ctrl + v: Paste
Ctrl + b: Bold
Ctrl + u: Underline
Ctrl + s: Save
Ctrl + z: Undo