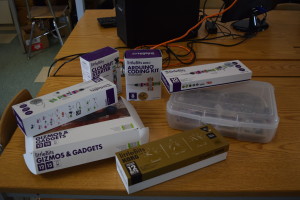 LittleBits are mini magnetic pieces that can be assembled into easy to build circuits. Little bits are designed for ages 8 and up, but since they are so simple to use the student apprentices at the help desk are incorporating the little bits into a robot project. The LittleBits include many little parts which come in kits or they can be purchased separately.
Many of the LittleBits projects are powered by a 9-volt battery
A Mounting Board is inluded with most of the LittleBits kits. 
This board is similar to Legos.

The LittleBits can also be controlled by a cloudBit.
The cloudBit is connected to the internet, 
which it can be controlled remotely.
The cloudBit starter kit costs $99.

LittleBits Kits
LittleBits can be purchased seprately or in kits with instructions to build and create. The LittleBits are interchangeable and kits can be mixed to build creative projects. Some kits have been listed below, more kits can be viewed and purchased on the LittleBits website.
Synth Kit – $159
The Synth Kit is a powerful, easy-to-use modular synthesizer that helps you unleash your inner rockstar. The Synth Kit, developed in partnership with Korg, enables amateur and professional musicians to easily explore the iconic synthesizer instrument.
Here's a photo of the little bits setup with parts from the synth kit:

Gizmos & Gadgets Kit – $199.95
This kit allows the creator of the circuit to build creations based off steps or make their own.
The Gizmos & Gadgets Kit is the ultimate invention toolbox. Motors, wheels, lights, switches, servos, buzzers, even the tools to build a remote control – snap it all together to spark creativity and fun. Want to invent a remote control racecar? Do it. Create an automatic bubble blowing device? Go for it! Make a wireless doorbell, a bumper ball game, even a mischief machine to scare the pants off friends and family. Start with step-by-step instructions for 12 inventions, then break out of the box and hack your world for fun.
The apprentices of the helpdesk are using the Gizmos & Gadget kit to build a robot
with a raspberry pi.