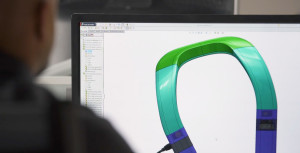 Toyota has launched a new design to help the visually impaired 'see' the world around them without actually seeing. When you're visually impaired, your sense of touch, hearing, and smell are heightened because the sight is lost. This device is voice activated and uses cameras to see the surroundings, and Toyota has programmed this wearable device to guide the user, using speakers or vibrations. This device sits on the user's shoulders and the programming could be compared to codes that are used with 'Siri' and 'Hey Google'. With the press of a button, you can say where you want to go, and the device will command you where to go. Toyota is hoping to be able to upgrade Project Blaid with mapping and facial-recognition technology. This will help when the user wants to visit the bathroom, take walks down the street and make sure they don't travel into unwanted areas. Doug Moore, Toyota's manager of partner robotics, had this to say to TechNewsWorld:
"Our ultimate goal with this project is to develop a wearable device that helps people who are blind and visually impaired do more," Moore said. "However, it's an ongoing project that is still very much in development, so we are not releasing dates yet about the beta or market launch."
Project Blaid is still in progress and does not have a set date for when it will be presented to the world. As a tech student, new technology advances interest me. When I read about Project Blaid, it makes me curious to how this technology can detect signs, landmarks, and even people. I am unaware if Toyota is making this program open, I would assume so because many intelligent minds are better than one.
Created by: Susan Black
Edited by: Spencer Creasy