Hello! My name is Mrs. O'Donnell and this is my 6th year teaching at Central Manor! One of the best parts about teaching is watching my students grow in so many ways in just one year.
Before coming to CM, I taught in Maryland for 5 years. I specialized in teaching children with visual impairments. I received my Bachelors Degree in Elementary Education from Kutztown University and obtained my Masters in Special Education from Wilmington University.
In the summer time, I am the camp supervisor of the Helen Diller Home for Blind Children, which is a residential vacation home for blind children in Avalon, New Jersey. It is so rewarding being able to provide vacations to children with special needs in the summer time. I have been with this organization for 12 years!
I love spending time with my family! I have two little boys at home. Jack is 4 years old and Luke was born this past June. We also have a 9 year old lab named Rigby! I am on maternity leave until November and am looking forward to meeting all of my students when I return to CM soon!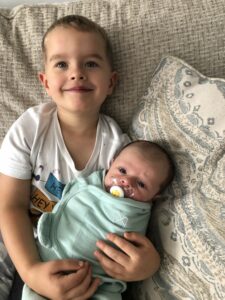 All About Mrs. McNeely
MY PROMISE TO YOU
I promise you every day your child will learn something.
Some days they will bring it home in their hands.
Some days they will bring it home in their heads,
and some days they will bring it home in their hearts.
I would like to take this opportunity to introduce myself and let you know I am so excited to be at Central Manor as a short term sub again this year! As a second career teacher, I am ecstatic to be pursuing my dream and purpose in life, which is to teach!
Last year I had the privilege of being Megan Collins' Short-Term Substitute for her third-grade classroom at Central Manor. Prior to that I was Laura Stephan's student teacher in third grade so I am very familiar with the building, the colleagues and more importantly have worked with some of your students in the past!
A little bit more about me: I am 33 years old and I live in East Hempfield Township with my husband, our three fur children and a little one of our own, Colin, who is 10 months old. We met at West Virginia University and have been together for over 10 years.
My first degree is in Business Management with a minor in Spanish from West Virginia University. I worked in the finance field for 10 years but realized my passion for teaching never went away. In 2018 I decided to go back to school to gain my PA teaching certification. I graduated in May 2020 from Millersville University with my certification and Masters in Early Childhood education.
I love working out, cooking, being outdoors and enjoying every part of life.
More importantly, I am very passionate about teaching and creating a classroom family and I can't wait to get started! I'll be seeing you soon.
*Keep Shining and Be Kind*