Our Week
Math – We are still plugging away with multiplication and division. Last week we learned my favorite multiplication fact…9!! There are so many fun tricks with the 9 facts. Ask your child to tell you all about them! On Friday, my math class combined movement and math to practice our 11 and 12 facts.
Language Arts – In Reading, we read a story called "Loved Best". In Writing, we wrote poems about the holidays using our five senses. In Grammar, we are continuing to learn all about verbs. We also used The Grinch Song to learn all about similes and metaphors…"You're a three decker sauerkraut and toadstool sandwich with arsenic sauce!"
Content – We finished our unit on the Earth, Sun, and Moon. This coming week, we will switch to Lancaster County History.
In the spirit of the season, we celebrated "The 12 Days of Kindness". Each day we were presented with a new challenge. I LOVED how enthusiastic the kids were about each day's challenge. I am so blessed to teach this group of SWEET third graders!!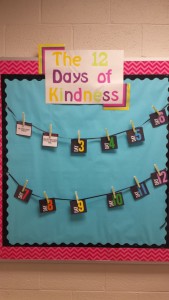 Day 1: Ask 3 People About Their Day
Day 2: Draw Pictures to Send to a Local Retirement Home
Day 3: Write a Thank You Note to the School Office Staff
Day 4: Learn 5 New Things About a Classmate
Is it really December?? It didn't feel like it!!
Meet our Owl-Standing Student!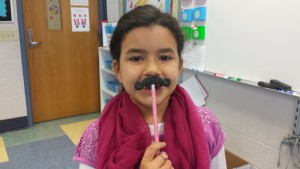 Ask Your Child?
Can you give me an example of a simile?
Our Week Ahead
Monday – Mad Minutes Due
Tuesday – Spelling & Vocab Tests, PTO POGO Show!!
Wednesday – P.E. Wear Sneakers
Looking Ahead
12/21 – Holiday Assembly
12/22 – Christmas Around the World Party
12/23 – Early Dismissal
12/24-1/3 – No School
Enjoy this beautiful (warm!!) Sunday!
Mrs. Binkley 🙂