I think Bean Boozled might be my new favorite game…to watch!! I can't say that I loved playing, but watching the expressions on the kids' faces was priceless. If you don't know what Bean Boozled is, ask your 3rd grader. 🙂
This was such a fun way to add some adjectives and figurative language to our writing. As a bonus, I got hilarious pictures of some of the kiddos as they tasted jelly beans that tasted like anything from dog food to skunk spray.
Thanks to one of my 3rd grade photographers, I even have a picture documenting the moment I tried a baby wipes flavored jelly bean.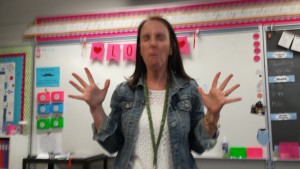 Such a fun day!! 🙂