Our Week
Math – We started Chapter 3: Subtraction. We learned strategies for doing mental subtraction and applied our rounding skills when we estimated differences. Next week we will subtract 3 and 4-digit numbers.
ELA – We learned about nonfiction text features this week. We also read a story about schools around the world. We are also continuing to work as text detectives with the book, Third Grade Angels.
Students worked together in teams to match nonfiction text features.
Vocabulary Plays are one of our favorite ways to practice our words. Here are the students performing some of their skits. This is a creative group!
Content – We are wrapping up our map skills unit. The students became cartographers and created their own maps. If your child was unable to complete his/her map during school this week, it should have come home for homework this weekend. Our map skills unit test is on Tuesday.
This week we also enjoyed the last days of summer weather and had our first pajama day!
Our Week Ahead
Monday – Phys Ed (Wear Sneakers!)
Tuesday – Art, Map Unit Test
Wednesday – Library & Book Exchange, Picture Day, Math Quiz
Thursday – Music (Bring Recorders!), PTO Roller Skating Party 5:30-8:00
Friday – Phys Ed (Wear Sneakers!), Spelling Test, Vocab Test
Homework
Monday-Thursday: Math Strip, Study Spelling, Study Vocabulary, Reading Calendar (optional)
Looking Ahead
October 9th – No School
October 19th – Pink Out Day
October 20th – No School
This group of students is SO sweet! After being out on Friday, I returned to this on Monday morning. I just love them!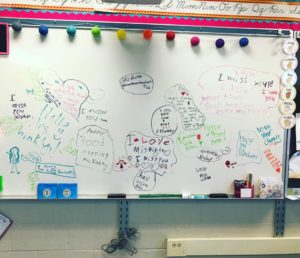 Mrs. Binkley