Our Week
Math – We completed Chapter 3. Some students brought their tests home last week, others are still working on test corrections. On Friday, we started Chapter 4: Multiplication. The kids thought that it was pretty sweet when we practiced making equal groups with marshmallows and Fruit Loops.
ELA – The kids had so much fun performing their reader's theaters! They did an awesome job working together in groups to plan, practice, and perform the plays.
Spelling – We took our Lesson 6 test on Friday. The Lesson 7 list was sent home on Friday. Our test will be on THURSDAY.
Last week we had our first "Lunch Bunch". Students who completed the September Reading Calendar joined me in the classroom for lunch and a treat.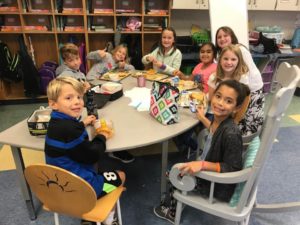 Our Week Ahead
Monday – Art, Book Orders are due
Tuesday – Library/Book Exchange, PTO Friendly's Fundraiser 5-8pm
Wednesday – Music (Please make sure that your child has his/her recorder)
Thursday – PE (Sneakers!), Pink-Out Day, Spelling & Vocabulary Tests
Friday – No School
Looking Ahead
October 26th – Bring your pumpkin to school
October 27th – Pumpkin Painting & Harvest Party
November 3rd – No School
November 8th-10th – 1:30 Early Dismissal/Parent Teacher Conferences
I'll leave you with a few more pictures from our fabulous week in 3-B!
Mrs. Binkley