Our Week
Math – We finally completed Chapter 14! Completed tests were sent home on Wednesday. We spent the rest of our week reviewing concepts from earlier in the year and working on math vocabulary books.
ELA – The kids are hard at work on plays, which they will perform this coming week. We also read all about animals that live in Antarctica. In guided reading, we are continuing to read our chapter books. We are hoping to finish them by the end of the year. In writing, the students are working on poetry and an opinion writing piece.
Content – We spent the week learning about pollination and photosynthesis. They even had a chance to act as pollinators, as they "flew" around the room spreading pollen (Cheese Curl crumbs) to flowers. Buzzz!!
Spelling – A new spelling list was sent home on Friday. We will have our test this coming Friday.
Vocabulary Parade
I hope that your child came home and told you about our upcoming vocabulary parade. We are SO excited about it! Tomorrow I will help the students select a word from our list of Storytown Robust Vocabulary. Your child will need to plan an outfit that represents his/her vocabulary word. Use items from around your house to create the costume. Here are some examples of costumes: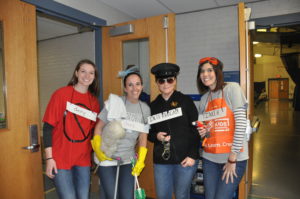 Miss. Garling (Deny) – This costume was created using an old t-shirt and electrical tape
Mrs. Binkley (Chore) – I just used cleaning tools from around my classroom and house (Although I did purchase a new toilet bowl brush!)
Mrs. Suydam (Interrogate) – She borrowed a hat, badge, and handcuffs to look like a police officer
Mrs. Gwyn (Tinker) – She used her son's play tools and an apron from Home Depot
Our Week Ahead
Monday – Phys Ed (Wear Sneakers)
Tuesday – Music
Wednesday – Applied Engineering
Thursday – Art
Friday – Phys Ed (Wear Sneakers), Book Exchange, Spelling & Vocab Tests
Homework
Monday – Thursday: Study Spelling & Vocab, Math Packet
Looking Ahead
May 8th – 3rd Grade Field Trip
May 11th – Laps for LeTort/1:30 Early Dismissal
May 16th – Awesome Activity Day
May 18th – PSSA Fun Day
May 23rd – Vocabulary Parade (Information to come home this week)
May 28th – No School
Mrs. Binkley