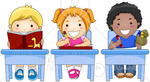 School and Homework Policy
Listed below is our homework policy and answers to some questions you may have regarding the policy.
Why Homework is assigned:
Homework is important because it is a valuable aid in helping students make the most of their experience in school.  I assign homework because it is useful in reinforcing what has been learned in class, it prepares students for upcoming lessons, teaches responsibility, and helps students develop positive study habits.
When Homework is Assigned:
Homework will be assigned Monday through Thursday nights and on occasion Friday nights.  Assignments should take students no more than 40 minutes to complete each night, not including studying for tests and working on something they didn't finish in class.  Reading comprehension quizzes are on D4 if we have them that cycle.  Spelling and vocabulary quizzes are every day 6.  Students will have 5 days notice before a unit test but they may not have any notice for a math mid-chapter quiz.  This is so I know if they truly understand what has been taught and what may need to be revisited.
Students' Homework Responsibilities:
Students are expected to put forth their best effort on homework.  It is expected to be neat or it will be redone.  They are to try and complete homework on their own and ask for help after they have given it their best.  Parent help is encouraged.  If they or you get frustrated with their homework please jot me a little note that states that the student tried to do it but got frustrated and I'll gladly tutor them the next day to be sure they understand what was taught.
All assignments need to be turned in on time unless there are extenuating circumstances.
Teacher's Homework Responsibilities:
Some homework will be checked together in class for purposes of review, and some will be checked by me and returned in a timely manner, usually with the Friday papers.
Test results are usually returned on Fridays to help consolidate the number of papers that are sent home.
Parents' Homework Responsibilities:
Parents play an important role in making homework a positive experience for their children.  Therefore, I ask that parents make homework a top priority, provide the necessary supplies and a quiet homework environment, set a daily homework time, provide praise and support, and not let children avoid it.  Please contact me if you notice a problem and we will work together to solve it.
If Students do not Complete Homework:
If students choose not to do their homework, I will talk with them to make sure they understand the assignment.  If they continue to choose not to complete it, they will lose their recess in order to complete it and then go out to recess when it is done.  If the problem persists, I will contact you by email or phone and see what we can do together to solve it.  If necessary and with parent approval, time before school or after school can be used to complete assignments.