Manor & Hambright Parents:
Please read the attached letter from Dr. Edwards.  Although Manor students will see Walker on a regular basis, there is also a chance that my Hambright students will see Walker when they visit each cycle.  I just wanted to make you aware.
Have a wonderful weekend.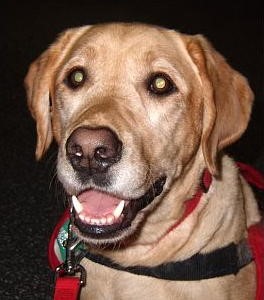 Hello Manor Middle School Parents, Students & Staff,
My name is Walker, and I'm so excited about the great news I have for everyone.  I have been at Manor Middle School for the last 10 years and am looking forward to begin working once again this school year.  I will be in the building a few days a week for the remainder of the year.  I was born in April of 2005, and I have been training in the New Life Assistance Dogs (NLAD) through United Disabilities Services program all my life.  I can turn lights off and on, open doors, retrieve and return things like books, back-backs, etc.  I'm also a very good listener and can't wait for the students to read to me.  Other note worthy characteristics about myself include: a gentle and willing temperament.  In addition, I am in excellent health and fully socialized.  My primary service will be working with the academic support team.  Nonetheless, some of you may see me in the hallways, library and other places throughout the building.
I will be wearing a red vest to indicate that I am a fully trained service dog.  This is different from that of my fellow canines who are still in training.  My friends' vest will state that they are Dogs In Training "Please Do Not Pet."  My friends are so jealous of me because my human friends can pet me.  Although I love human interaction and attention, please, please ask my Master for permission before petting and/or giving commands, for this could confuse me and I would not want to be a distraction in the educational process.  I will have several trained faculty members who will help me be successful in my placement here at Manor. If you have any questions, please feel free to contact Dr. Edwards or Mr. Kramer.
I am so happy to finally get use my gifts with so many great people at Manor Middle School.  It will also be great to go to work with my human daddy, Mr. Kramer (Health & Phys. Ed).  Can't wait to see some of my old friends and make some new ones.
Thank You,

  Walker