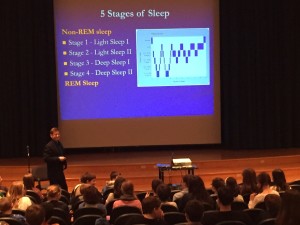 On Friday, December 11, 2015, Manor and Marticville students attended a Speaker Seminar given by Dr. Hugh Smith (http://www.hssmithassociates.com) to learn how to interpret their dreams.    Dr. Smith opened the presentation with the different stages of sleep and the various parts of the brain.  He then allowed the students to share their dreams.
Students seemed to enjoy the sharing – many of the dreams were silly and fun to hear.  Our students have some very vivid dreams — amazing what goes on in their brain during the night.  We had one that we entitled "The Skittles Theory" due to the rainbow colors and the candy that was present in the dream.
Dr. Smith helped the students classify all or parts of the dream under four categories: wishes, conflicts, feelings, and other stuff from their day. He was able to guide the students to find the metaphors, associations, emotions, but not necessarily the logic of the dream.
At the end of the seminar, each student was given a dream journal to record their dreams if they wished.  A follow-up session will be forthcoming to allow students to share and analyze dreams that they recorded in their dream journal.