Work hard and keep your options open; that was the motto from today's Career Seminar Speaker.  Captain David Shipley visited Manor to share his life and career experiences with the 7th and 8th graders who chose to participate.  The Seminar covered a wide variety of topics including the education and training to become a pilot, the day in the life of a pilot, and career prospects.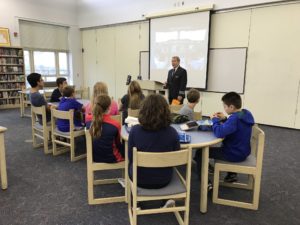 Captain Shipley earned a degree from Embry-Riddle, an aeronautical university, then made his way to the Air Force where he was an Pilot flying a variety of aircraft including the F-117 Stealth Fighter.  Serving in combat situations mainly in the Middle East was a part of his in the military service.  Currently, he is a Pilot for American Airlines flying many Trans-Atlantic flights (he left us to fly to Paris – what a great field trip opportunity that would be!)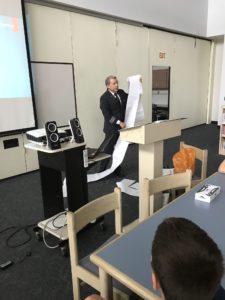 Captain Shipley detailed the amount of work that pilots must complete prior to even getting into an aircraft.  The pile of paperwork generated from a single flight rivals a teachers!
Although many of the aircraft systems are automated, pilots need to know a great deal about all of the systems and procedures.  They go through specialized training for each and every type of aircraft they fly.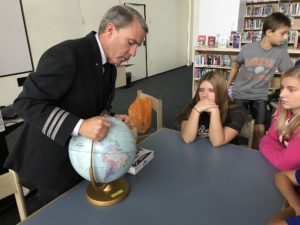 During the portion of the talk that detailed the technical aspects of flight, we discovered The Great Circle Route.  It explains the curvature of flight paths and how this can make flight time shorter.  Then we discovered what the contrails behind an airplane actually are composed of (it's cloud like material – not pollution or toxins).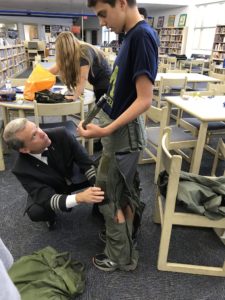 Learning about being a combat pilot was also a highlight.  Students had the opportunity to try on a real flight suite and flight helmet.  Above, Colin is learning about the pressurized legs in a flight suit.
Students also loved learning how to prevent G-LOC (Gravity Induced Loss of Consciousness) when flying in extreme conditions with the practicing of the Anti G Straining Maneuver.  Ask your child to demonstrate and teach you.
There was so much more to this wonderful talk – ask your child to share what else they learned.  Flight lessons may be a birthday present request for some.
Thank you, Captain Shipley, for spending time with us today.  All of the students learned a great deal from your experience and expertise.
Captain Shipley and his daughter, Erin.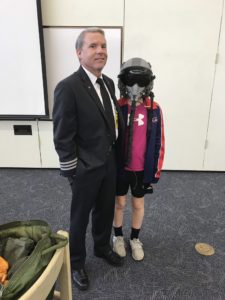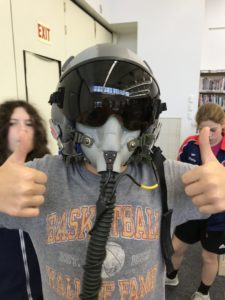 Roman and Elena tried on the flight suit too.