Please choose the appropriate submenu for Band, Strings, or Percussion Instrument Rental/Purchase.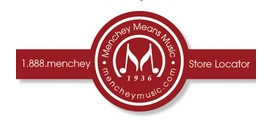 Menchey Band Instrument Rental 2022 Prices  Please note that band instruments are "rent to own."
Menchey String Instrument Rental 2021 Prices Please note that fractional string instruments will be "sized up" as your student grows. Here's a chart for sizing. Due to the nature of this, when your student needs a full size instrument, then Menchey offers a Purchase Option. Please talk with the sales representatives about this.
We recommend purchasing a previously played bell kit.