Summer 2020 Ideas
Read Ride your bike or scooter Chat with a friend Write a letter to a family member Take a walk outside Jump in a sprinkler Cook or bake Listen to music Play a game Watch a funny movie Try a new sport Help your family with chores at home Plant flowers or vegetables Do some of the activities below!
HAVE FUN and STAY SAFE!
We can't wait to learn with you again in the new school year!
__________________________________________________________
Need a smile?
Watch these adorable puppies play and visit the Georgia Aquarium! Georgia Aquarium
Tips for Working and Learning at Home
How to Help Your Children with Schoolwork at Home
_____________________________________________________________
Week of May 18 – May 29
Academic: Many of us are feeling like our "school from home" schedule is a bit out of whack these days, especially as the days get warmer and it seems more fun to be outside than to be on your Chromebook. Try these two simple strategies, taken from Getting Smart, to help you get through your schoolwork for the rest of the year!

Beat the Clock–choose one task that you have to complete. This may be a worksheet, one math problem, or an activity. Set a timer for a few minutes, depending on your age. If you are 7, set the timer for 7 minutes. If you are 11, set the timer for 11 minutes. While the timer is running, work on your worksheet, math problem, or activity the entire time. When you are done and the timer goes off, reward yourself by getting up for a stretch, a drink or snack break, or to do something physical, like push-ups, jumping jacks, or a quick jog. Then, set your timer for a new task!

Be a Schedule Master–take control of your own schedule. Like to wake up at 9:00 now that you don't have to rush to the school bus? Great! Prefer to wake up super early so you can get your schoolwork done before lunch time? Try it! List all of the things that you need to do throughout the day, including schoolwork, Googlemeets with your teachers, chores, time for eating, time for relaxing and exercise, etc. Make your own daily schedule on a piece of paper, on a white board, or on a Googledoc on your Chromebook. Check things off as you complete them, and don't forget to put some fun and relaxation into your day!
Career: Farming is a very popular and important career in Lancaster County as well in many areas of the world. Interested in farming someday? Maybe you want to be part of FFA (Future Farmers of America) when you are in high school? Check out this Canadian site FarmFood 360 which offers 11 virtual tours of farms from minks, pigs, and cows, to apples and eggs!
Social/Emotional: Many of us are not feeling very normal these days. And, guess what? That is OK! It is OK to not feel OK! Remember that you own your feelings and there are ways to feel better. Check out this story on Mindfulness and Peace: I am Peace.
Week of May 11 – May 15
Academic: Grades K-2: "From our head down to our toes, and our feet up to our nose, the Digital Citizens inspire students to be safe, responsible, and respectful online." Watch the video about using the internet wisely: Pause Think Online. Which character do you relate to most when you go online? Why is it important to be kind online? Why shouldn't you open a message from someone you don't know? Grades 3-6: "Students learn about a framework — the rings of responsibility — to understand how to balance their responsibilities as digital citizens." Watch this video: Responsibility. How could throwing a water bottle on your bedroom floor be similar to something you do online? What are the Rings of Responsibility? Have you ever heard the term "digital citizen?" What comes to mind when you hear that term?
Career: Khan Academy, in coordination with Disney, is offering a free online class on how to become an Imagineer! Students will work through activities that show how imagineers, artists, and designers work together to create the Disney parks. Check it out here: Imagineering In A Box.
Social/Emotional: Many of us are feeling like our "new normal" is not very normal at all. One way to take control of a new and unexpected situation is to focus on what you have the power to change. Give yourself permission to let go of what you don't have the power to change. Try this activity with your family this week, adapted from Cheri Lovre's Crisis Management Institute website: https://parents.cmionline.com/week-4/.
Start with two sheets of paper.
1. Draw a line down the center of one piece of paper. On the left side, make a list of all the ways you had structure in your life before school closed (school schedule, sports, appointments, etc.).
2. On the right side, note whether the item on the left side is still in your schedule now or not. For instance, you may still practice dance or soccer at 6 pm, but now it is online instead of in-person. This still counts as being on your schedule.
3. On a new sheet of paper, write the first thing that you named on your previous list that is no longer on your schedule.
To whom does it apply?
How many family members were involved in that particular activity?
Talk about what purpose that specific activity held (for instance, going to school at a certain time or getting to practice by 6:00 pm).
Discuss ways you might put that activity into your new schedule (for instance, your school is doing online learning, so you can now put that in a chart that shows times you are expected to be online with your teachers).
4. Look at the next item. Talk about what purpose it served and whether there is a new way you can schedule it into your days.
5. Once you have gone through the list, create a new schedule of activities that are healthy for you. Remember, not everything has to happen at the same time for each family member, like the time you'll each exercise. Be specific about some expectations, like "7:00, rise, shine, and make our beds."
6. Talk about ways you'd like to spend time together as a family that you rarely had time to do in your old schedule … do jigsaw puzzles, play board games, take walks, cook or bake, etc. Schedule these activities during times that work for your entire family!
Week of May 4 – May 8
Academic: Looking for a great way to journal and draw about your thoughts, questions, and feelings related to being at home instead of at school? If so, use this workbook as a tool throughout the next days or weeks and share it with a trusted adult! First Aid for Feelings
Career: Do you have a cool idea for a product? Is there something you do or use every day that you think you could change or make better? If so, you could be an entrepreneur. An entrepreneur is someone who decides to create something or run a business, even though he or she might lose some money. Entrepreneurs are often creative, daring people, and the things they create or the businesses they operate are very important to communities. Being a Great Inventor
Social/Emotional: It's raining again! This spring, we have experienced some wonderful, sunny days but what do you do to stay busy when it's raining outside? Check out these ideas for some great ways to stay happy and safe indoors: Indoor Activities for Kids.
Week of April 27 – May 1
Academic: This week, play flashcard hide and seek! For younger children, hide flashcards of letters and numbers around the house. Have your child/ren find the cards and identify the letter or number they found. Challenge–for older children, hide spelling words/sight words or math fact flashcards!
Career: Do you have an interest in art? Maybe you like to draw, paint, or mold with clay. Maybe you have always wanted to design your own line of clothing or shoes. Possibly you like to do redecorating projects around your home. If so, travel to Paris, France to see amazing works of art at The Louvre with this virtual field trip!
Week of April 20 – April 24
Academic: Here are some fun Time Capsule activity pages to try. Take a look at the pages in this cool time capsule activity, then choose one or more pages to write/draw about your time at home. Remember, we are not stuck at home, we are SAFE at home!
Career: Grades 1-5: Using this resource, find the page for your current grade level. Use a piece of paper to write your answers or type your answers into a googledoc; decorate it! Share it with a family member or friend. Challenge–complete the same activity, reflecting on the grade you were in last year! Elementary Portfolio / Grades 5 and 6: Using this resource, take some of the quizzes and do the checklists. Use a piece of scrap paper to jot down notes. Learning more about your interests and skills now will help prepare you for the FUTURE! It's My Life
Social/Emotional: It is OK to be angry. Any feeling that you have is an OK feeling because you get to decide how you feel. However, it is NOT OK to lose control of your anger and hurt others with your words or actions. Visit this site Anger Management for Kids to learn more about managing your anger in 5 simple steps.
Week of April 13 – April 17
Academic: Read the same book or watch the same movie as a sibling, parent, relative, or friend. Talk in person, on the phone, text, googlechat, etc. about the characters, the setting, the plot, the conflict, and the resolution. Challenge–If you could change the ending of the book or movie, how would you change it?
Career: Here is a fun Career Interest Survey to try. You can print it out or just keep your "score" on a piece of scrap paper. What are your top 2 or 3 high interest areas? Do these interest areas match jobs that your adult family members currently have? What do you have in common with some of your adult family members? How are your interests different?
Social/Emotional: There are so many wonderful ways that you can use your hands. You can wash your hands, you can help fold laundry, you can make dinner, you can feed your pets, and so much more! There are some things you should NOT do with your hands. You should not hit, pinch, shove, or slap someone else with your hands. Hitting, pinching, shoving, or slapping is NOT an OK way to use your hands. Using your hands to hit, pinch, shove, or slap hurts others. Visit these videos to learn more: Video 1 and Video 2. Challenge–can you draw a picture of how you can use your hands nicely? Can you use your hands in a nice way at least 5 times this week?
Week of April 6 – April 9
Academic: Play Hopscotch in a hallway or outside. Use any paper or cardboard you have on hand to cut out shapes, or use sidewalk chalk to draw shapes if you are outside. Call out the shapes as you hop on them. Challenge–add sight words or simple math problems to the hopscotch game. Read the words or answer the math problems as you hop!
Career: Do you have an interest in outer space? Maybe someday you'd like to be an astronomer and study galaxies, black holes, stars, and planets. Maybe you'd like to be an aerospace engineer, operate and fix space stations and space shuttles, produce movies about outer space, or write about what scientists are discovering in outer space. If so, Explore the surface of Mars on the Curiosity Rover. They are updating from WEBVR to WEBXR now, but 360 Mode offers a digital view!
Week of March 30 – April 3
Academic: Make an alphabet scavenger hunt. Make a list with each alphabet letter (on paper, on the refrigerator, with sidewalk chalk, etc). Search for items that go with each letter. Challenge–after the items from A to Z are located, mix them up and alphabetize them again!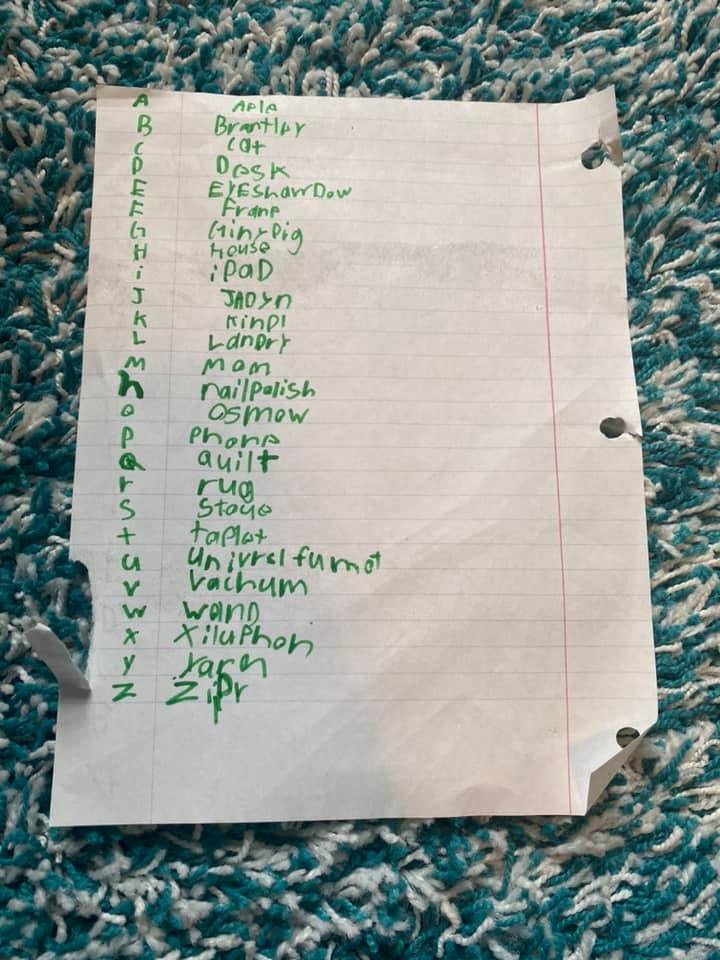 Career: Do you have an interest in taking care of animals? Maybe someday you'd like to be a zookeeper, take pictures of animals, write about animals in their habitat, or help animals with their medical needs. The San Diego Zoo has a website just for kids with amazing videos, activities, and games. Enjoy the tour!
Social/Emotional: This is a great website with lots of different strategies for helping you manage uncomfortable feelings. Be sure to check out the 5-4-3-2-1 grounding exercise – an easy strategy to help when you are feeling overwhelmed or shape breathing – a fun way to practice calming breaths. There are a ton of strategies! Coping Skills for Kids