Winter Fun!
Before school closed for winter break students participated in winter themed word play and STEM activities.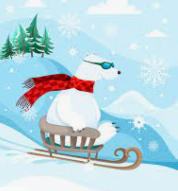 Middle School students created a list of book titles and authors such as:
How To Handle A Terrible Gift by Pretenda Likeit
What To Do if You Rip Your Holiday Sweater by Taylor Visit
Santa's Reindeer by Rudy Olph
Wintery Creatures by Snow. E. Owls
Elementary School students engaged in a STEM activity where they had to design and build a parachute using the supplies given to help Santa gently and safely land on the ground.
Elementary School
Younger Grades are learning about Transformations in Stories. Students will focus on how authors use different elements of writing, such as perspective or setting, to transform words into a story and examine how fictional and real-life people are transformed or attempt to transform others. Students watched video clips from Mulan, Frozen, The Incredibles, and Wreck-It Ralph and were asked to identify the transformation that take place in people, animals or the environment. I knew students understood the concept of transformations when one of them said, "So, transformations kind of have a domino effect on everyone and everything around them."
Upper Grades are having fun with advanced vocabulary such as homophones, homographs, foreign language, idioms, and Greek and Latin word parts. Students created themed based restaurant menus using 10 sets of homophones to name and describe 10 menu items. Bon Appetit!
Middle School
7th & 8th graders will be given low-floor and high-ceiling challenges using essential math concepts and skills. Each problem will take 45-60 minutes and will allow students to acquire math skills while in turn giving them the opportunity to build tenacity. It's hard fun!
Last week and this week students are working on the Jumping Frogs challenge. As you will see if you watch the video, the challenges has a low-floor and a high ceiling! Let us know if you are able to solve the "Open Problem".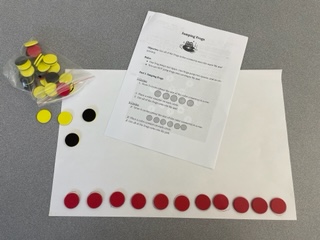 Last week students were given 10 minutes and 30 circles to draw as many pictures as they could using the circles given. Students shared their drawings, admired the drawings of others, and were amazed at the fluency and flexibility of their peers!