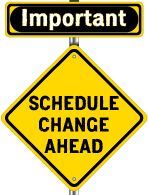 ALL KINDERGARTEN STUDENTS COME TO SCHOOL IN THE PM ONLY (12:55-3:25).
AM-K – You should drop off your child in the same fashion that you would typically pick him or her up from kindergarten. I will open the doors outside at 12:55 and you simply allow your child to get out of the car when your vehicle is by the sidewalk. Please remember to pull all the way up so we can have as many students as possible exit vehicles at one time.
Students should wear sneakers to school (no cleats).
Sunscreen should be applied at home.
Cups of water will be provided for the students and students are also able to bring a water bottle. The students are responsible for their water bottles as they move from station to station. If you worry that it will get lost, please do not send it or opt for a disposable bottle with his or her name written on it.
No backpacks are needed as this event will take up almost the entire day that your child is at school.
Dismissal
AM-K students will ride the bus home from school unless a note is sent to school stating otherwise. If you plan to pick up your child, please be sure to fill out the online pick-up form on the Martic Blog, and if you could also send me an email, I'd greatly appreciate the heads up so we can make sure that all students go where they are supposed to.
PM-K will follow their regular dismissal routines.
If you have any other questions, please let me know. Thank you!