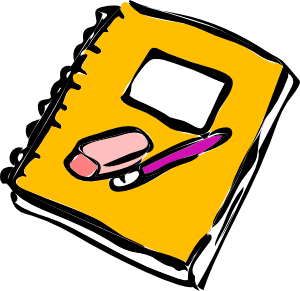 Our main Language Arts program is Harcourt Storytown. Storytown has many components. We use this to instruct phonics and phonemic awareness, storytelling and read alouds, introduction of letters and sounds, and writing. We also use Lucy Calkins, Coco Writes, and Kid Writing for writing instruction. We try to write in our journals or do some kind of writing every day.
During writing time, the students are expected to do several things: stretch out the words to hear the beginning, middle and end sounds, use spaces between the words, use punctuation (.!?), use an uppercase letter at the beginning of a sentence, use the word wall to spell words, write at least 1-2 sentences, and match the picture to the story.
Our handwriting component is called Fundations which teaches students how to form their letters by using lines with key words. The sky line, plane line, grass line and worm line tell the students where to start and where to end each letter. We also use special words such as down, across, slide, hump, and around to tell them what kind of lines to make. This helps the students to form the letters correctly and make them look nice while doing so.

We focus a lot on letters, letter sounds, proper formation of letters, and writing during the first half of the year. It will look different for all students but may include letter work, sound manipulation, word work, reading, writing, etc. At the beginning of the second semester we will begin guided reading groups for all students! Yes, reading! We are always reading simple, repetitive texts but as the year progresses we will be doing a lot more with reading. Guided reading groups have more individualized instruction and students are reading books based of their level of need.
Our main program is called MyMath and the other is Mountain Math. I'm very excited to have these programs! They are great! The concepts of our curriculum, which are the topics we will investigate during the year are number recognition (o-100), counting (1:1), graphing, grouping, sorting, shapes (2D and 3D), patterning, measurement, and addition and subtraction.
Math in kindergarten is very hands-on! We use many manipulative such as unifix cubes, teddy bear counters, chain links, attribute buttons, pattern blocks and other fun manipulatives to make learning mathematical concepts interesting and meaningful. MyMath also has worksheets to go along with each topic that the students will complete in class with me. We will follow and "I do, we do, you do" approach to instruction. I will show the students the concept, we will do some things together, then you (the students) will complete the remaining tasks on your own. There are also homework pages that go along with each lesson. Homework will be assigned approximately 3 out of 6 days a cycle. Be sure to check out the MyMath Website and login with your username and password to review learned concepts, listen to our songs, play games or explore with virtual manipulatives at home!
Ever wonder how to teach your child how to form his or her numbers in a fun and memorable way? Use these Number Rhymes to help your child learn proper formation.
Science
Scientific Process
Chemistry – Matter and Materials, Phases of Matter
Earth Science – Water and Land, Natural Events, Rocks, Soil, Sand and Pebbles, Weather
Physics – Energy (From the Sun, Plants and Humans)
Biology – Living and Nonliving, Plant and Animal Structures and Growth/Life Cycle, Ecosystems, Reduce, Reuse, Recycle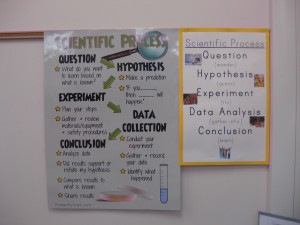 Our main focus of Social Studies is the 5 Themes of Geography. We also include the following topics:
Self/Family
Community Helpers
Holidays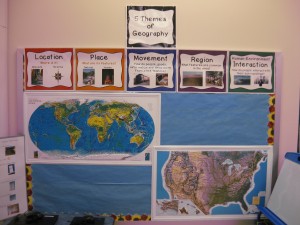 We love calendar time! Each day, we review months of the year, days of the week, counting, weather, and so much more. Our calendar time is interactive and includes lots of song and dance. "Macarena Months" and "Days of the Week" are a couple of the songs we enjoy singing. Some days we do our calendar in a traditional way on the carpet and other times we use our interactive Mimio calendar.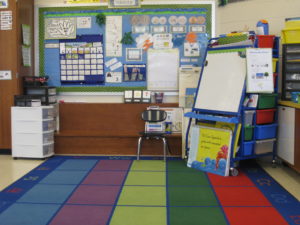 High Frequency Words – Word Wall Words
High Frequency Sight Words – List A – Speak the Words
High Frequency Sight Words – List B – Speak the Words
List A *mastery (25 words)
a
am
an
as
at
can
come
go
he
here
I
if
in
is
it
like
me
no
on
so
the TheSightWordSong
to
this
we
List B *introduction (24 words)
are
and
down
do
for
have
give
good
little
look
one
out
she
see
that
there
they TheySightWordSong
two
up
want
what
where
who
you YouSightWordSong
Activities for learning high-frequency words:
play bingo with the words
practice writing the words in shaving cream or in a baggie filled with hair gel
sight word basketball (write words on scrap paper, if you get the word correct, crumble the paper into a ball and toss it into the trashcan)
swat the word (post-it notes with sight words written on them and attached to the wall, floor, or table, adult calls out word, student finds it and swats it with a fly swatter)
multi-sensory activities (see this website for ideas http://www.icanteachmychild.com/2012/03/learning-sight-words/)