Our classroom is the only kindergarten classroom at Martic.  I teach both the AM and PM sessions.  We are room A127 and are located in the Primary Wing of our school.  We are also in the "yellow" hallway.  If you would like to visit our classroom please refer to the district website for visitor and/or volunteer policies.  Once you arrive for your visit, you must first go to the office to obtain a visitor's badge before you will be able to come into our room.  If you have not signed up to be a regular classroom volunteer, but would like to, please let me know.  I would love to have you join us and help prepare classroom materials.  We love helpers and visitors!  
*Please note that volunteers are required to have clearances and be an approved volunteer.
Clearances required of all school volunteers…
Pennsylvania is requiring that all school volunteers get criminal background, child abuse and other clearances for the school year.
Most of the clearances can be obtained at no cost. The requirements apply to both new and current volunteers. You can find a listing of the requirements, along with links to online and print application forms, on the Penn Manor website here.
We encourage our volunteers to make sure their clearances are up to date.
If you have any questions about the new requirements, please contact the Penn Manor Human Resources Department, at (717) 872-9500, ext. 2247.
Kindergarten Authors
Below you will find original stories written by Kindergarten students. Each student worked on writing and revising to add details, as well as adding illustrations to match the words. Mrs. Mulder typed the written words, scanned the original pictures from the students and added clipart or photographs. We hope you enjoy reading them as much as the students loved writing and illustrating their books!
The Best Wedding Ever By Madison Stringer and Morgan Gaylord
Rainy Sunny and Snowy By Viviana Arnold
A Whole Week With My Sister By Morgan Gaylord
The Sneaky Leprechaun By Rayann Hunnell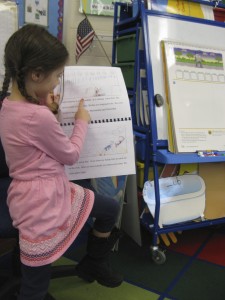 Viviana is reading her book to the class.