A few weeks ago, several 5th and 6th grade classrooms around Penn Manor began a pilot program giving each student their own laptop to use for class. As of now, these laptops stay in the classroom, but the students have the same level of access and control as the 1:1 students at the Middle and High Schools.
Until I saw this for myself, even I wasn't fully convinced that an effort of this scale at this grade level would be as big a win for both teachers and students as it is at the higher grade levels. Of course it would be easier to manage the laptops this way than with laptop carts that are shared across an entire building, but what would education look like? How could a small change like this, from using a shared laptop to using your own laptop, make much difference in the larger scheme of things?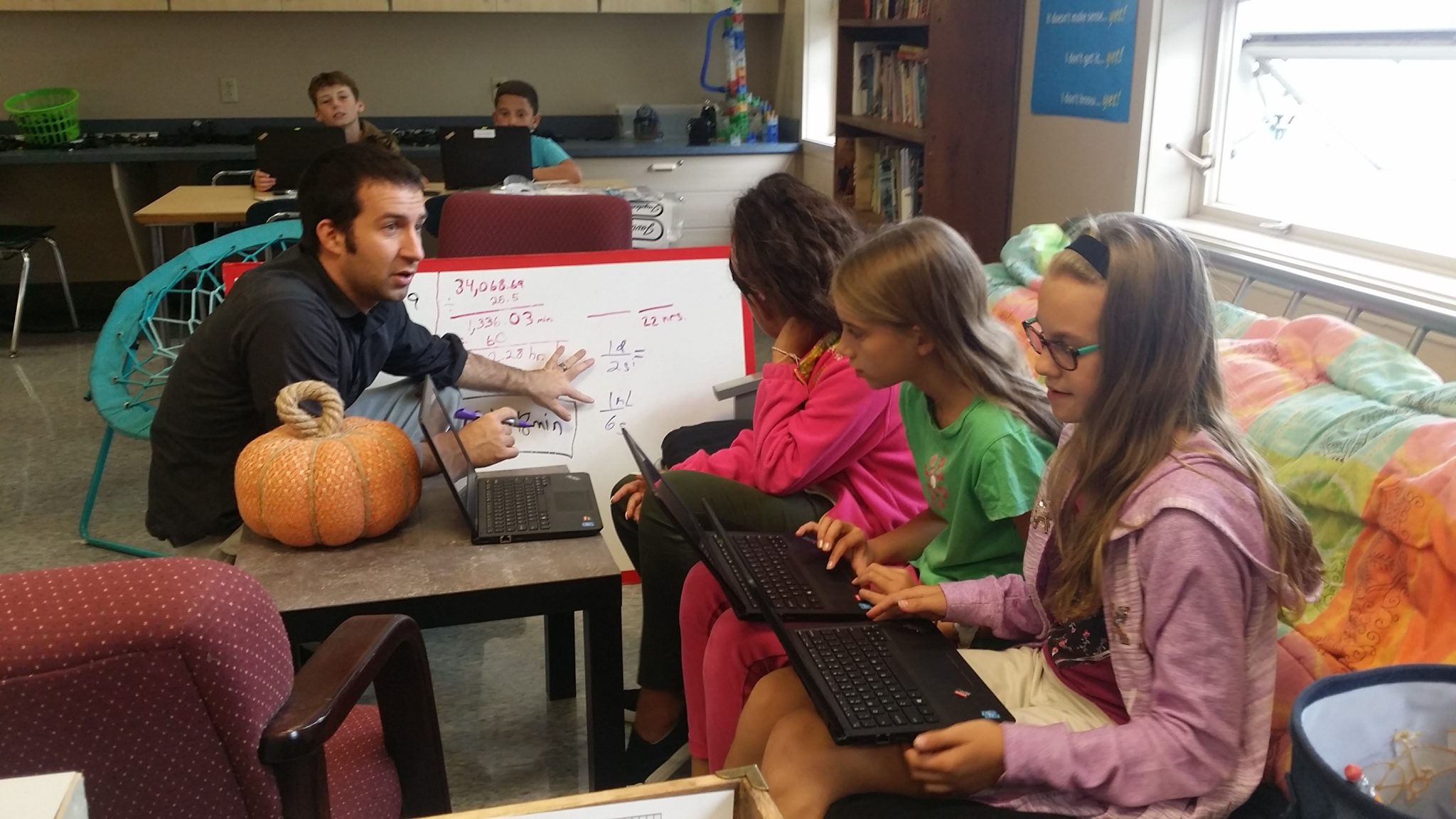 Today at Eshleman Elementary School, it all clicked for me as I watched students lead the way in learning for the future. Here's what I noticed.
Ownership
Learning happens at a much more rapid pace when you own your education. If you decide you want to know as much as you can about hot air balloons for example, and you "own" the study of hot air balloons, you will find yourself truly enjoying your study time and you will learn much quicker because you have a greater desire to learn.
This 1:1 program does something very similar for the student. A simple thing like being able to change your wallpaper and know that no one else will set it back gives each student the feeling that they are in full control of this device and they can personalize it to their liking. That personal touch is freeing, and soon, they are exploring the world with more interest and excitement than they ever had before.
Stations
In the photo above, the teacher (Mr. Bodde) has divided students in to small groups that can each be working on things that are more targeted to their current learning needs. The teacher can visit one station at a time, and give more direct and personal attention to each student, while not taking away from his view and value in the classroom. This has become a popular way to enhance the classroom learning experience, but when any student in the room can pull out a laptop at any time, the stations method quickly becomes an even more powerful way to teach.
Collaboration
Teamwork can be a challenge at the 5th and 6th grade levels. In a 1:1 setting, collaboration becomes much easier. Imagine students collaborating on a group project where each one has their own laptop, but they are all working on the same document.
One of the projects that Mr. Bodde is working on is a classroom blogging system that's only visible to the other students in the classroom. In this system, every student has their own blog, and they can post things to it that anyone else in the class can see. This is a project I'll be keeping my eye on.
Even More To Come
This is just the beginning. There is so much more potential in the weeks and months to come, which will be expanded by some of my own efforts like Tech Club, Tech October, and other opportunities that I find to inspire learning.