One of my goals in working with teachers and students at Penn Manor is to inspire the next generation to be creators and innovators. If children develop an apt for technology now, they will be readily prepared to take on the world they will grow up to live in. Technology will only get more complicated and feature rich as time goes on, so for many, it will be very important that they be able to adapt to the quickly shifting landscape of screens and virtual things.
This does not mean unlimited screen time, and it is important to get outside and get fresh air and exercise. At younger grade levels this is even more important. When technology is used, it should be for a reason.
Projects
The following are projects I have either started or developed at the elementary level at Penn Manor.
In the corridors of the Central Manor Elementary School is a space known locally as "the beach". Each Friday, this space comes alive with interesting facts about various topics, usually relating to something the students are learning that week. In the 2018-2019 school year, this program was entirely student led. That experience has brought a lot of lessons learned, so in the coming year, I hope to build on those lessons and give students as much opportunity to learn and build the project as possible, while providing a bit more structure to optimize the experience.
Started in January, 2016, Tech Club is a way for 5th and 6th graders to learn how computers work. Tech Clubs can focus on hardware, software, system administration, computer graphics, audio, or really anything else that is valuable for students at these grade levels to learn.
Tech Leaders
Started in January 2018, the Tech Leader program is a group of 3rd and 4th graders that get to fix smaller issues with student laptops in their classrooms. I meet with a group of 2 to 4 per classroom twice in a school year, which proves to be enough for them to help other students when little things go wrong. Not every 3rd and 4th classroom has experienced this program yet, but so far it has been working well where it has been tried.
Video Projects
4th through 6th grade classrooms have made short videos entirely with their student laptops. Each project includes several distinct roles, and helps the students learn teamwork, planning, and the basics of videos and editing.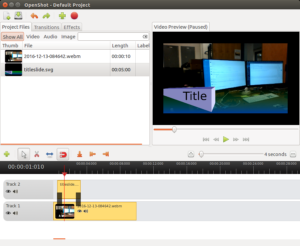 1:1 Pilot
As we rolled out our 1 to 1 laptop program at the elementary level, it was my hope to engage both students and teachers in making use of technology in more effective ways across all grade levels. In 2018, we expanded our 1:1 to all classrooms in 5th and 6th grade, and expanded our pilot to 4th grade. In the 2019-2020 school year, we will be introducing Chromebooks in 4th and 5th grades, with Linux laptops 1:1 in grades 6 to 12.
Future Projects
I'm always looking for ways to implement new strategies to get children involved in technology. If you have ideas, please send them my way!