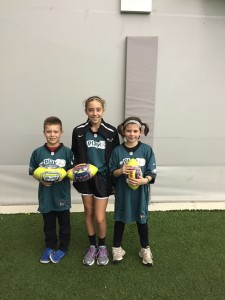 (Pictured from left to right)
Braden Kahl (2nd Grade CM) Riley Robinson (6th Grade Pequea) Kennedy Dings (3rd Grade Pequea)
Congratulations to these three Penn Manor students who competed in the Team Championships last Sunday in Philadelphia.  All three competitors did a wonderful job placing in the top 4 of their respective age groups.  Braden, Riley and Kennedy were all given a PPK jersey and football.
Final Results:
Riley Robinson – 4th Place / Kennedy Dings – 4th Place
Way to go girls!!!
Braden Kahl – 1st Place!!!!
Braden was the champion from the Boys 6-7 age group.  Below I have attached information from the official NFL PPK website.  The columns show  Braden's scoring of Punt/Pass/Kick/Total from Sunday.  Braden currently is in 5th place nationally with only 3 NFL teams yet to report.  PM students who qualify represent our home team "Philadelphia Eagles" however all 32 NFL team participate in this PPK competition.
Braden, Riley, and Kennedy – We are PROUD of you!!!
| | | | | | | | |
| --- | --- | --- | --- | --- | --- | --- | --- |
| | Braden C | | | 62' 4" | 64' 4" | 35' 5" | 162' 1 |