This award is given to one career prep student, one college prep student, and one honors student every month. These students are nominated and chosen by the Math Department on the basis of their hard work and leadership in the math classroom. They will have their pictures posted in the Math Wing for the month and will each receive a coupon for a free MTO at Sheetz.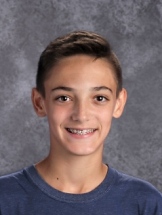 Matthew Rafter has been selected for this award because his work ethic this semester has been outstanding.  His attitude towards challenging problems and difficult task demonstrated the true definitions of grit and resilience.  His assignments were turned in on time, and he never missed a week of ALEKS.  His exceptional efforts showed through in his assessments helping him finish Intro Algebra A with the highest average in class for the second marking period.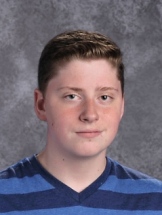 Juan Lucas Rizo-Patron is receiving this award because he displayed a great work ethic and exceptional academic ability during the fall semester. He earned "A" averages on all test, quiz, homework, and ALEKS assignments.  This type of performance helped make him a standout star amongst his peers in CP Algebra 1.  This type of effort will help him to be successful in all his future classes.  His teacher thanks him for being a leader and positive influence for your classmates.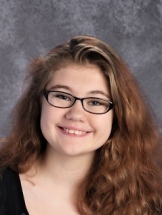 Rachel Collison was chosen for this award based on her "off the chart" performance in Honors Geometry/Trigonometry fall semester 2016-2017.  Her teacher has been teaching HGT for 15 years, and she is the first student to achieve a 100% across the board, for each of the marking periods and on the final exam!  That is an amazing accomplishment.  It will be exciting to see what her math future holds.  Good luck in the spring semester and beyond, Rachel!