This award is given to one career prep student, one college prep student, and one honors student every month. These students are nominated and chosen by the Math Department on the basis of their hard work and leadership in the math classroom. They will have their pictures posted in the Math Wing for the month and will each receive a coupon for a free MTO at Sheetz.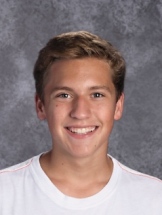 Jared Stephan is receiving this award because he has done a great job so far in Honors Math Analysis.  He is very strong mathematically and is a very analytical thinker.  Not only has he scored well on his assignments and will earn an A average for the third marking period, but he also volunteers frequently in class and works well with his peers.  Most importantly, he consistently keeps a positive attitude.  Keep up the good work, Jared!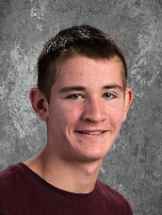 Tom Aston is receiving this award because he has been a great student in class, and his teacher greatly appreciates his hard work and commitment to class. He always participates, answers questions, and helps keep the class moving along. He has done a great job coming to class each day and putting in hard work, and it has paid off with his excellent grade for marking period 3. He gets along great with everyone and always seems to have a good time in class. His teacher also really looks forward to his awesome team names or Kahoot names whenever they have class competitions! Keep up the good work Tom, and congratulations!
[No Picture]
Dallas Shackelford has earned this award as a result of his effort and responsibility that makes him stand out from his peers and is evident in his work.   Weekly reviews and classwork assignments are always completed with his best effort and on time.   If friends are off task in class, the teacher can always count on him to make the mature choice to not join in but to continue working hard toward meeting his goals.  Throughout the semester, there has been much mathematical growth in his thinking, and he has become a strong math student.  On the last test, he earned the highest score of his class.  His teacher is so proud of him for the choices he is making and for his effort in school.  His hard work is paying off.