The Monthly Mathlete award is given to one career prep student, one college prep student, and one honors student every month. These students are nominated and chosen by the Math Department on the basis of their hard work and leadership in the math classroom. They will have their pictures posted in the Math Wing for the month and will each receive a coupon for a free MTO at Sheetz.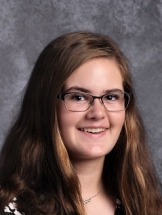 Eleanor Helm was selected for this award as a result of the hard work and effort that she put into learning new content and excelling in Honors Geo/Trig. She is incredibly thorough as she tackles new ideas. She is not afraid to ask questions, and she is willing to both kindly give advice and receive it openly from other students as she practices new and challenging concepts. Eleanor strives to put forth her best effort in everything she touches, and it does not go unnoticed. As a result of her positive attitude, her thorough attention to detail and logic, and her well-practiced work habits, she earned the highest grade in her class for the first marking period. Keep up the great work, Eleanor, and you'll find success throughout your schooling and far beyond it!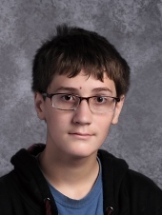 Graham Thomas has been chosen for this award as a result of his consistent hard work, his character, and his attitude. He consistently has his homework completed, with his work shown, demonstrating personal
responsibility and indicating a strong sense of mathematical reasoning. He earned a 95% during the first marking period and currently has almost a 97% in the second marking period. But his teachers are most impressed by the way he behaves in the classroom. He is respectful towards his teachers, kind towards your peers, and willing to
work with any student when asked. These are all evidence of his good
character.
Raudys Pineda Rodriguez has been selected for this award due to his average of 96% last marking period, the highest in his class. He is always prepared for class and ready to learn. He works well with others and always asks for help when needed. His hard work and dedication is something to be proud of and his efforts have not gone unnoticed. He asked to be signed up for homeroom to make sure he was completing his work correctly, which shows great initiative on his part. Keep up the good work, Ruadys! Your teachers are so proud of you!