The Monthly Mathlete award is given to a number math students every month from various levels of math classes. These students are nominated and chosen by the Math Department on the basis of their hard work and leadership in the math classroom. They will be recognized by having their pictures posted in the Math Wing for the month, as well as here on our blog.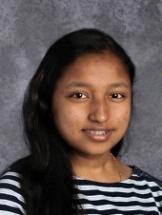 Sujata Biswa is earning this award because she is a quiet leader in the classroom. She is always kind and friendly to her classmates and willing work with any group. During class time, she uses her time wisely and asks questions to clarify, so that she is able to complete the work
effectively. At the start of the semester, Sujata expressed her goal of earning an A in the class, and her teacher was impressed by how diligently she has been working toward that goal. Her determination and effort are greatly appreciated.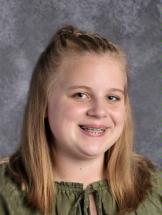 Emily Castline has been chosen for this award because of the work she put forward this semester in CP Algebra 1A. During both marking
periods, she has volunteered answers, helped her classmates, and scored very well on all of her assignments. You has earned an A average for both marking periods, and her teachers believe that she will continue her success next semester in the second half of the course. Her attitude and hard work have not gone unnoticed.
Thank you, and keep up the great work, ladies!