Article by:Spencer Creasy
Edited by:Brielle Bitts
Most modern portable devices such as phones, tablets, and laptops have great battery life, but sometimes you might not have enough juice to power through the day. There is nothing worse than being on 1% and searching for a place to plug in your phone before it dies. Android devices make it easy to swap the battery out for a new one, allowing you to carry the 2nd battery with you so you can survive the day with a full charge. Many Android devices also have the luxury of an SD card slot to expand storage, unlike Apple devices. A user with an Apple device would have to get a charging case or portable power pack to have extended battery life. For example Samsung's Note 4 (pictured to the left), has a stock battery that is a size of 3220mAh with fast charging. The Note 4 requires larger batteries to power itself since the screen and the modern hardware takes up battery life. Battery life can be used up depending on what tasks the phone user is completing such as, gaming or watching videos. The Note 4 already has great battery life, but you can add an extended battery to take it to the next level. Just be safe when purchasing batteries or tech products and lookout for fakes.
Extended Batteries & Accessories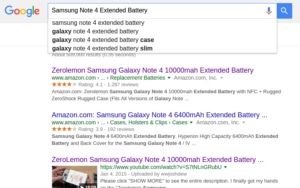 Extended batteries can be purchased for many devices. They can be found usually by googling your device name and extended battery. Our example device is Samsung's Note 4.
Zerolemon is a trusted brand which is known for their extended batteries for various phone models. Zerolemon sells a 10000mAh battery for the Note 4 for $59.99 on Amazon. 10000mAh is a large battery and some reviewers on Amazon state that they can use their phone for about 4-5 days without having to charge it. This is a substantial upgrade from the stock 3220mAh battery. The battery life can be affected by the screen on time and what tasks are being completed on the device.
Zerolemon has many color options available for their battery cases, unlike other brands.

Below are photos of the Zerolemon case and 10000mAh battery for the Note 4
For Apple devices, battery cases can be purchases such as the Mophie Juice Pack for around $59 for the iPhone 6s or other Apple devices. The battery acts as a case for the device.
There is also an option to purchase a portable battery charger for devices if you don't want a bulky case, if there isn't an extended battery available for your device. Portable batteries are usually universal with USB devices.