Four Penn Manor alums were honored with the Penn Manor Distinguished Alumni Award on April, 2023. The recipients were Elizabeth Maine Allen, Class of 1974; William Myers, Jr.; Class of 1976; Charlie Reisinger, Class of 1990; and Tiffany Harrington Harris, Class of 1991. Their induction into the Penn Manor Distinguished Alumni Wall of Honor had been postponed since April, 2020 due to COVID.
Elizabeth Maine Allen, CPA – Class of 1974. Liz participated in field hockey, gymnastics and band while in high school, earning district recognition for field hockey.  She earned her Bachelors of Science in Health Planning and Administration at Penn State University and played field hockey for the Nittany Lions. She was active in Greek life and served many leadership positions including President of her sorority, Delta Delta Delta. She earned her MBA from the University of Pittsburgh with a concentration in accounting. Liz has spent over 40 years as a healthcare operating, financial and consulting executive. She was the first woman partner in the Pittsburgh office of Ernst & Young assisting organizations in mergers, acquisitions and consolidations as well as performance improvement, strategic and financial planning, regulatory compliance, physician practice management and healthcare coding and documentation.  She was the first woman Chief Financial Officer at both Trinity Health System and Allegheny Health Network, a $3 billion dollar healthcare conglomerate.   She has served on a variety of Boards including for-profit entities, non-profit organizations  and advisory groups and has held the position of President/Chairman of the Board or Chair of Finance Committee/Treasurer for many organizations.  Liz is currently retired and enjoying extensive travel world-wide, entertaining and playing sports including skiing, paddle ball, pickleball, tennis and golf in addition to continuing her extensive board work.   She married her Penn Manor high school sweetheart Tom, and together they had two children, Greg and Laura. Along with her brother Doug, Elizabeth has established a scholarship in her mother's name (Kathern Janes Maine – a former teacher at Penn Manor High School) that is specifically for Penn Manor students choosing to major in programs within the College of Health and Human Development at Penn State.
William L. Myers, Jr. – Class of 1976. At Penn Manor, Bill was a member of Student Council and placed first in the Bicentennial Youth Debates advancing to the district competition. He attended Clarion University and earned his law degree from the University of Pennsylvania. As an attorney, Bill has more than 30 years of trial experience and focuses on transportation and personal injury law. He has successfully argued before the U.S. Supreme Court and has been named a Pennsylvania Super Lawyer 13 years in a row. In 2017, Bill introduced his first novel A Criminal Defense. It reached the No. 1 ranking on Amazon in both the Kindle Store and the Mystery, Thriller & Suspense categories. He followed that book with three more in the Philadelphia Legal series An Engineered Justice, A Killer's Alibi, and A Criminal Justice. His latest book published in June, 2022 is Backstory. Bill is also active in the Pennsylvania Innocence Project and with the Ronald McDonald House of Philadelphia.
Colonel Tiffany Harrington Harris, USMC – Class of 1991. Tiffany was on the field hockey, basketball, and track teams at Penn Manor and was treasurer of her class. She earned her degree in Psychology at Shippensburg University and received her Marine Corps commission in 1995. Tiffany served one deployment in Afghanistan and two in Iraq. She was the assistant chief of staff for the 3D Marine Logistics Group in Okinawa, Japan. In August, 2019, Tiffany took command of Tracy's Defense Logistics Agency depot in San Joaquin, CA. She is one of only two women to lead the 77 year old depot. Tiffany is now working at Marine Headquarters in the Pentagon in Washington D.C. Her decorations include the Joint Meritorious Medal, the Meritorious Service Medal (fifth award), and the Navy and Marine Corps Commendation Medal (third award).
Charles Reisinger – Class of 1990. During high school, Charlie was involved in the theatre program and was the Features Editor for the school newspaper, Penn Points. Charlie received a B.A. in Psychology from Millersville University, and an M.S. in Instructional Design & Technology from Philadelphia University. He has been employed by the Penn Manor School District since 1998 and serves as the Chief Information Officer. He leads educational technology programs, infrastructure, and systems in support of teaching and learning with technology. Charlie is an advocate and frequent speaker on open source principles in education. He is the author of The Open Schoolhouse: Building a Technology Program to Transform Learning and Empower Students. Charlie also teaches IT Security, Privacy, and Ethics for the Lombardo College of Business at Millersville University. Charlie was recently featured on WGAL In Focus discussing Artificial Intelligence.
Kicking off the High School Dedication Weekend, the 2023 Distinguished Alumni Wall of Honor recipients shared their experiences and successes with students at an assembly at the high school in the hope that they too will continue the tradition and go on to accomplish great things following graduation. This was followed by a luncheon and tour of the newly renovated high school.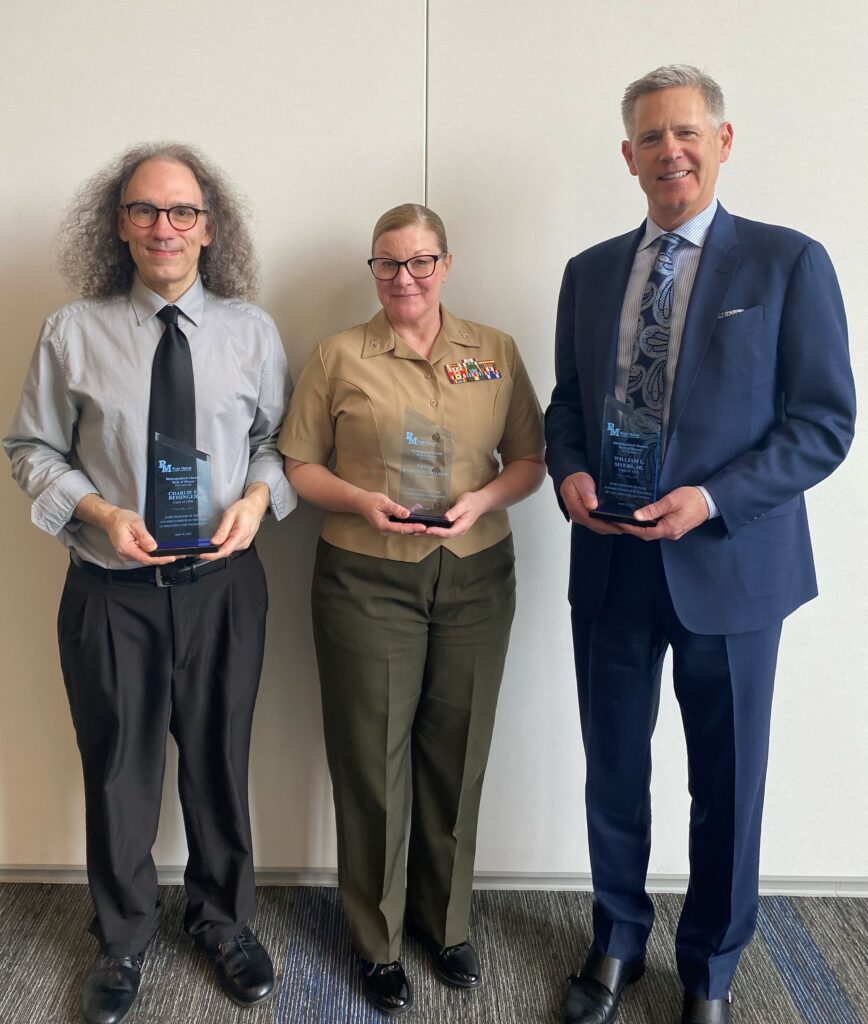 From left – Charlie Reisinger, Colonel Tiffany Harrington Harris, Bill Myers (Elizabeth Maine was not able to attend the event)