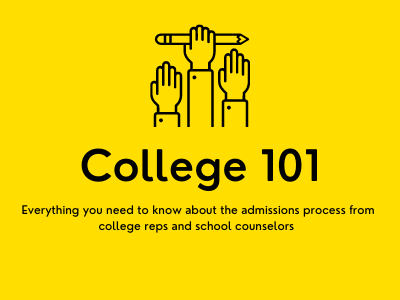 When? – Tuesday, September 14th at 7:00 pm via Google Meet.
Students can access with Google Link here: meet.google.com/adw-hink-tzm *Copy and paste this link so you can access it at the time of the event*
We understand with the pandemic, some of you are behind on the college process. We are here to help!
College 101 will be the first of various sessions to help you get back on track and begin your college process. We will highlight everything you need to know about the admissions process from college reps and school counselors for grades 11th and 12th.
Topics include college search, application timeline, and college entrance essay writing, and interviews.
"How to Make Your Application Stand Out" Components of applying to college, and details about what and to include in applications.
"Writing a Stand-out Essay" Where do I start in writing my college application essay? What do admissions reps want to read about?
"How to Rock the Interview" Many small, competitive colleges require an interview as a part of the admissions process. Learn about this process and how to present yourself in these interviews.