The Monthly Mathlete award is given to a number math students every month from various levels of math classes. These students are nominated and chosen by the Math Department on the basis of their hard work and leadership in the math classroom. They will be recognized by having their pictures posted in the Math Wing for the month, as well as here on our blog.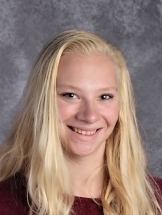 Ashley Seiger has been nominated and selected for this award as a result of the level of work and dedication she put into CP Statistics. Throughout the year, she completed every assignment and assessment thoroughly and neatly, paying close attention to detail and accuracy to the best of her abilities. She has shown great leadership skills by voluntarily and humbly working alongside other students to answer their questions and opening herself to constructive criticism from others in her own work, while always maintaining a positive attitude. She has not been above seeking help when she needs it, and has remained diligent in studying and practicing, even as a senior. As a result, she earned the highest grade in a CP Statistics class for the semester. These traits that she has honed will take her far. Keep up the great work, Ashley, and congratulations!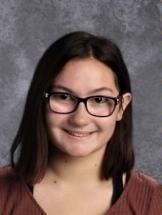 Mackenzie Irwin has been selected for this award because she has been a model student in Intro Algerba 1A this fall. She could always be counted on to be on task and working. She had no issues with any topics or assessments, and routinely earned 100%. Ending the course with a 96% is a real accomplishment. She has much reason to be proud of her math performance and her character in general. Her teacher knows that she will be well prepared for CP Algebra II. Congratulations!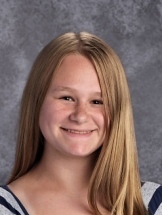 Madison Stallings is being given this award because she is a diligent worker who consistently had homework completed. She is an intuitive thinker who perseveres, but also recognizes when to seek out help. Her teacher greatly appreciated your willingness to work with any classmate as she exhibited patience while providing concise and accurate explanations of Calculus topics. Her final course grade was a 91%, for which she is to be commended.